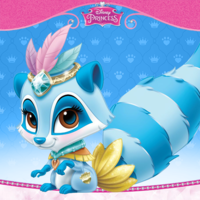 Windflower is a raccoon whose owner is Pocahontas. She has sky-blue fur, brown eyes and a dark blue nose and ears. She wears a jewel adorned headband with purple, pink and blue feathers, and she also wears a shawl with a design similar to Pocahontas' dress.
She is a very mischievous raccoon. The pet loves exploring and playing, but she can't help getting in trouble. Pocahontas was at the river, when she heard a noise and saw a big frog leaping in front of her. Just then, the princess noticed something moving inside an old hollow log. She approached and found Windflower!
Windflower is voiced by Marieve Herington.