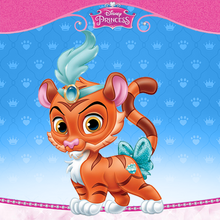 Sultan is an orange tiger cub who belongs to Jasmine. He has amber eyes, a pink nose and a small goatee. He wears a sapphire adorned headband like Jasmine, but with a turquoise feather attached to it, and has a turquoise bow on his tail. Sultan has no necklace, collar or tag.
Jasmine found Sultan napping on a pile of precious silks at the market. This tiger cub may be small, but his bravery is a million times his size.
Sultan is voiced by Bryce Papenbrook.