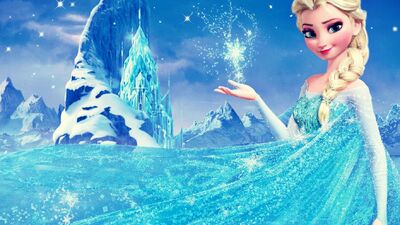 Elsa is the thirteenth princess. She is voiced by Idina Menzel. Her movie is Frozen. Frozen is based on the tale, The Snow Queen by Hans Christian Andersen.
Background
Edit
Elsa was the crown princess of Arendelle and was later crowned Queen until her powers over ice were exposed. She then fled, leaving an eternal winter behind her. However, the bond between she and her sister, Anna, causes her to realize that love is the key to controlling her powers. Elsa uses her magic to restore Arendelle, undoing the damage she had wrought, and ushering in a new era or peace for the kingdom. Being 21 years old, Elsa is the eldest of the Disney Princesses. Elsa is the first official Disney Princess to have become a queen in her feature film. She also will be the second princess without a love interest, after Merida.
Role in the Film
Edit
"For the First Time in Forever"
"Let It Go"
"For the First Time in Forever" (Reprise)
"Let It Go" (Reprise)
"We Know Better"
"Life's Too Short"
"Life's Too Short" (Reprise)
Elsa has a sister named Emma.
Elsa has a little brother named Prince Neal.
Queen Elsa should be 18 when she becomes queen. A princess can become queen at sixteen or eighteen.
Ravenna, Freya, Wicked Witch, Dorothy and Elsa are all related.