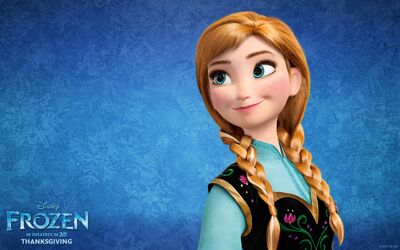 Anna is the twelfth Disney Princess.She is voiced by Kristen Bell. Her movie is Frozen. Frozen is based on the tale, The Snow Queen by Hans Christian Andersen.
Background
Edit
Anna She is born a princess and is sometimes over shadowed by her older sister Elsa. Anna is very energetic and fun.
Role in the film
Edit
She goes looking for her sister after the 'accident' at Elsa's coronation party.
"Do You Want to Build a Snowman?"
"For the First Time in Forever"
"Love is an Open Door"
"Let it Go"
"For the First Time in Forever" (Reprise)
"Let it Go" (Reprise)
"We Know Better"
"Life's Too Short
"More Than Just the Spare"
"Life's Too Short" (Reprise)