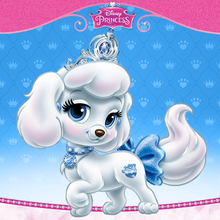 Pumpkin is a white Poodle dog owned by Cinderella. She has big, blue eyes, a brown nose, and her hair is styled after Cinderella's hair.
Pumpkin was an anniversary present to Cinderella from The Prince! This glamorous puppy loves to attend royal balls, twirl and dance.
Pumpkin is voiced by Tara Platt.